Harvest Party
---
Help Us Celebrate our 34th Anniversary
With Crabtree's Kittle House
Save the Date October 19th, 2019 • 12:00-4:30pm
In its history that spans more than 200 years, the Kittle House's timber frame has held many things: a guesthouse, prohibition-era roadhouse, school, inn, and restaurant. The stately Kittle House began humbly in 1790 as a barn on Ivy Hill Farm. The Kittle family named the eponymous barn in the 1880s, when they took over the farm and renamed the future restaurant and inn The Kittle Barn and Carriage House.  In 1890, Moses Taylor V purchased the farm and surrounding 500 acres to raise his prize cattle, renaming it Annandale Farm. Following Taylor's death in 1928, the Kittle House began to develop its livelier reputation as a roadhouse. In 1931 the Kittle House took on a primmer role as the Noble School for Girls. Unsuccessful, the school closed after five years, and thus the Kittle House tradition as a restaurant and inn began.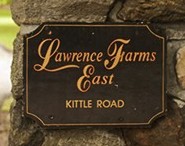 In 1931 The Kittle House thrived as The Lawrence Farms Inn. The Westchester Playhouse, located on the adjacent property of what is now the Mt. Kisco Country Club, was in its prime. The birthplace of many illustrious careers, the Inn often played host to famous, and soon-to-be-famous, actors, including a young Henry Fonda, Margaret Sullavan and Talullah Bankhead. In 1949 the Inn was sold to William Carlson, who shortened the name to "The Kittle House."
Since 1981, the Kittle House has been owned and operated by the Crabtree family, who has returned the House to its former glory through extensive renovations and enhancements, including the beautification of the grounds, the expansion of the Atrium Dining Room, and the transformation of the former stables into an award-winning wine cellar. The most recent and exciting changes at Crabtree's Kittle House include a striking redesign by Christan P. Arkay-Leliever of KMS Team. With a mindful use of ecological materials and thoughtful attention to detail, the House exudes a quiet elegance, befitting its charmed past.
---
$145pp.
PSR Club Price $135pp. 
Sold Out! We'll See you next year!
Please note that during our Harvest Parties the winery is open for regular tours and tastings throughout the event for those planning to visit. **The final tour of the day will be offered at 4pm***